Gelato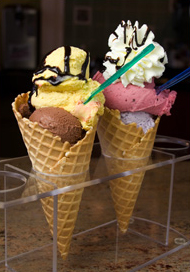 Gelato is Italian for ice cream, yet the two products are distinctively different for at least three reasons. First, Gelato has a much lower amount of fat, usually ranging between 6% and 8%. On the other hand, ice cream's fat content is usually between 15% and 22%. Moreover, gelato's fat content is due predominantly by the use of fresh milk cream of the highest quality, while fat found in ice cream is often originated by the use of industrial butter. But less fat in gelato does not equal a diminished creamy taste. Quite the opposite!

Second, gelato is made fresh daily in small batches using equipment imported from Italy that I incorporate small quantities of air into the product. While ice cream has an overrun (the air incorporated in the batch, and therefore the final product) up to 100%, in gelato this percentage is around 20%. A gallon of ingredients whips up 2 gallons of traditional ice cream while the same quantity of gelato ingredients yields just 1.2 gallons of creamy indulgence. The final result is a more dense product that maintains longer and better its creaminess.

Third, gelato is held and served at a temperature that is "warmer" than ice cream. Gelato's "warmer" temperature translates into a more genuine, delightful and intense flavor in the mouth of its aficionados. Gelato could have less fat than ice cream but it sure has more flavor. Gelato, half the fat… double the flavor.

Sorbetto is another Italian specialty, one that is especially appreciated in the South of Italy. Different from Gelato, sorbetto is milk free and fat free. Its amazing taste is given by the fresh fruit used in its preparation.